OUR EVENTS
MAP LINKS
WHO ARE WE?
SETLISTS
JUKEBOX
Click Here to listen to the Brain Dead Jukebox. Now includes Zombified sample setlists!
Goth / Industrial / EBM / Proper Metal / Rock
Ran from March 2004 to May 2004
Venue: Scruffy Murphy's
The Zombie Lounge was our Utopian dream of an Alternative Sunday all day event where we could all chill out and drink happily together, perhaps playing a silly game of Jenga while listening to our favourite tunes. The people that came loved it - especially the silly games we'd brought for their amusement - we however thought it was a dismal failure. The goths couldn't bear the Metal and would all leave while it was on, while any other alternative types seemed to give it a wide berth. In addition to this running an all day affair on Sunday is a real ball ache if you've been partying hard all weekend! After two reasonable outings the event ended after a disastrous day in May where we had no venue, then a venue and no PA, and ultimately no punters. It took a lot of effort for very little reward although Bert maintains the idea was a good one.

N.b. There's still a Zombie Lounge poster up in the Oasis, it's been there over a year now!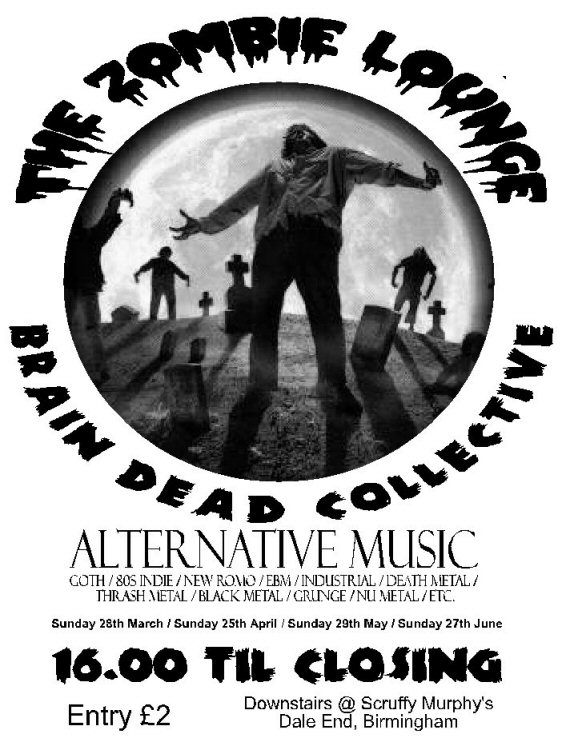 MAILING LIST
FIND US ELSEWHERE
PHOTOS
Click Here to go to the Photo Gallery, now showing pictures from our gigs.
ADMIN AREA